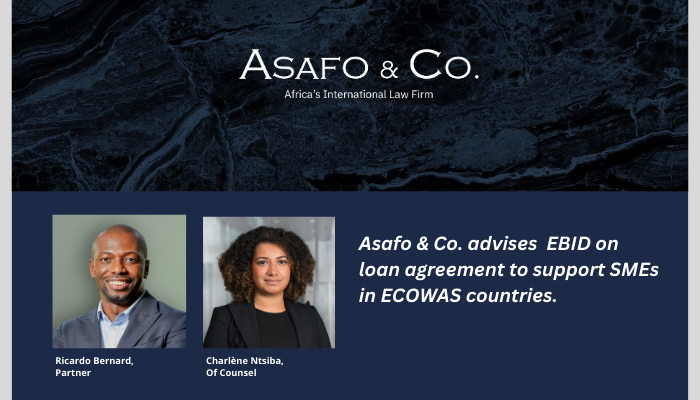 Asafo & Co. recently advised ECOWAS Bank for Investment and Development (EBID) on its loan agreement with Vista Group Holdings to support small and medium enterprises (SMEs) within the ECOWAS region.
Asafo & Co. assisted EBID in executing a USD 50 million loan agreement with Vista Group Holdings, which was signed on Thursday, 12 October 2023. The facility aims to support the business activities and expansion of ECOWAS based SMEs and improve their ability to respond to growing demands in the areas of agribusiness, consumer goods and technology, among others. This impactful transaction will contribute significantly to enhancing access to financial resources for SMEs operating in the region and resonates with Asafo & Co.'s commitment to contributing to solutions that drive economic growth and stronger value chains in Africa.
The Asafo & Co. team advising EBID was led by partner Ricardo Bernard, who was assisted by Charlène Ntsiba (of counsel) and Silvija Jurgsaityte (associate).