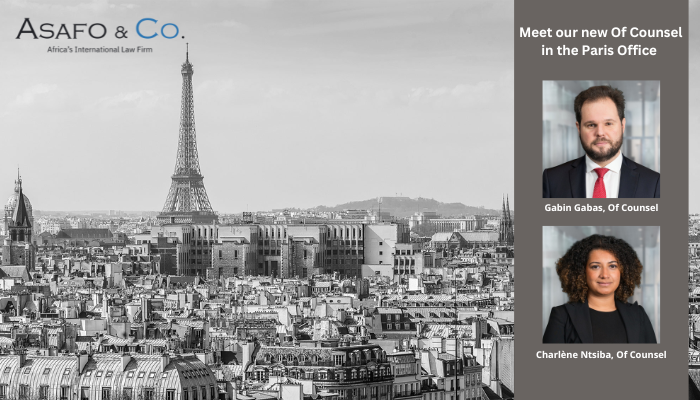 ASAFO & CO. continues to develop with the appointments of Gabin Gabas and Charlène Ntsiba as Of Counsel in the Paris office.
Both admitted to the Paris Bar since 2013, the promotions of Gabin Gabas and Charlène Ntsiba strengthen the firm's projects practice. Each has contributed to numerous strategic projects in Africa, particularly in the areas of renewable energy and natural resources, both critical to the future of the Continent and to the global energy transition.
Gabin Gabas works with governments, public entities and sponsors. He advises them on the commercial and regulatory aspects specific to the mining, hydrocarbon and energy sectors. He has extensive experience in bauxite, copper, cobalt, gold and iron ore projects throughout the OHADA member states in sub-Saharan Africa. His work includes, among others, major projects and contracts related to the mining of minerals in Africa that are critical for world battery supplies, particularly those used for electric vehicles.
Before joining ASAFO & CO., Gabin was an associate at Orrick (2013-2019). He graduated from the Anglia Ruskin University – Cambridge (LLM, 2012) and the University of Burgundy – Dijon (Master 2, International Business Law, 2010).
Charlène Ntsiba focuses on project finance and transactions in the energy and infrastructure sectors. She advises private sector investors and developers, commercial and development banks, investment funds, international institutions, governments and public sector entities on all aspects of their investment and financing transactions in Sub-Saharan Africa. In particular, she has worked on major electrification projects that have helped accelerate Africa's energy transformation.
Prior to joining ASAFO & CO., Charlene was an associate at Orrick (2018-2019) and White & Case (2013-2018). She graduated from the Université Descartes – Paris V (Master 2, International Legal Affairs, 2010). Charlène is a former President of the Africa Business Lawyers' Club (ABLC) and in 2019 she was named Young Leader by the French-African Foundation.