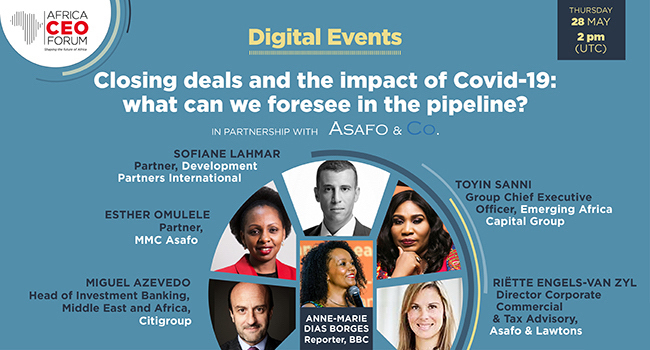 On May 28 our firm co-organized the digital event, "Closing deals and the impact of Covid-19: what can we foresee in the pipeline?" with the Africa CEO Forum.
The discussion focused on how to initiate, conduct and complete M&A and private equity deals in Africa during the period of the Covid-19 crisis. Asafo MMC Managing Partner, Esther Omulele, and Asafo & Lawtons Director, Riëtte Engels, participated in the event along with Miguel Azevedo, Head of Investment Banking, Middle East and Africa, Citigroup; Sofiane Lahmar, Partner, Development Partners International; and Toyin Sanni, Group Chief Executive Officer, Emerging Africa Capital Group.
To view a recording of the webinar, please click here.