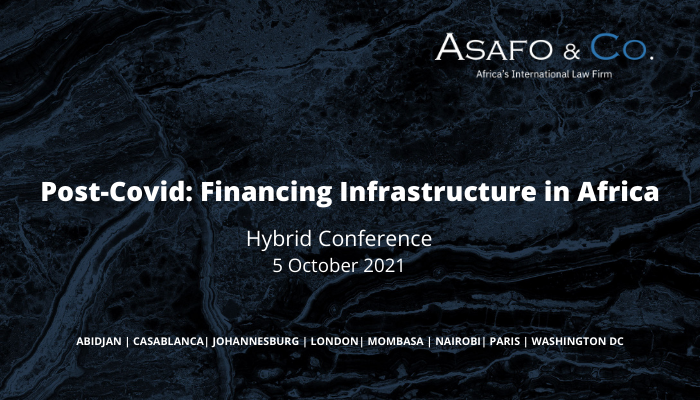 In connection with Paris Infraweek, Asafo & Co. and Paris Europlace co-hosted a side event on financing infrastructure in Africa.
On October 5, we were pleased to co-host with Paris Europlacea a hybrid conference entitled, "Post-Covid: Financing Infrastructure in Africa", organized in connection with Paris Infraweek (4-8 October).
The event included two panel discussions on assessing debt sustainability in relation to infrastructure financing and on impact investments and their role in driving more private sector investment in Africa. We were honored to have Abdel Aziz Ould Dahi, Mauritanian Minister of Digital Transition, Innovation and Modernization of the Administration, who introduced the topics of discussion and distinguished panelists Schwan Badirou Gafari (General Secretary, Paris Club, French Treasury), Catherine Bouvier d'Yvoire (Managing Director, Public Sector & Development Organisations, Standard Chartered Bank), Frederic Wandey (Head of Treasury & Syndications Crosscutting Initiatives and Advisory, IFC, World Bank Group), Marianne Brunat (Director of Infrastructure Business Development, Orange), Cécile Camilli (Deputy Global Head of Export Finance, Société Générale CIB) and Mohamed Ben Osmane (Investment Officer, STOA), as well as Asafo & Co. partners, Pascal Agboyibor and Jude Kearney. Asafo & Co. public law partner and professor of law, Cendrine Delivré, also played a key role in organizing the conference along with Karim Zine-Eddine (Director of Research, Paris Europlace) and Arnaud de Bresson (Managing Director, Paris Europlace) who acted as moderators.
A recording of the event is available here.