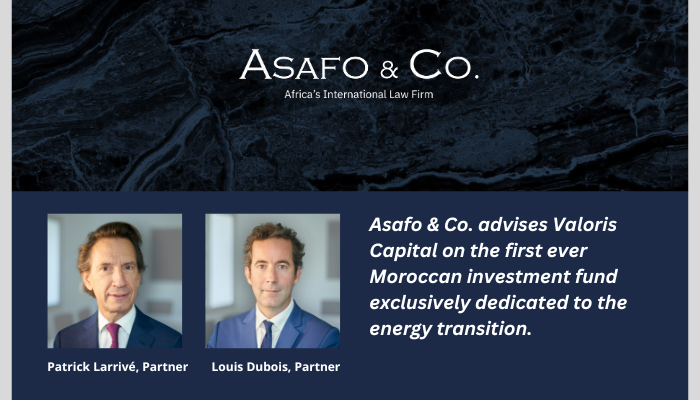 Asafo & Co. advised Valoris Capital on the first ever Moroccan investment fund exclusively dedicated to the energy transition.
Valoris Capital, a subsidiary of the independent investment bank, Valoris Group, launched Valoris Alternative Investments Fund (VAIF), an investment fund that provides a comprehensive solution for the financing, installation and maintenance of auto-generated photovoltaic farms, to supply green, cost-effective electricity to support industrial and agricultural businesses. VAIF is the first of its kind and aims to help Moroccan companies reduce their energy costs and carbon footprint, while safeguarding their borrowing capacity.
The Asafo & Co. team advising Valoris Capital on the fund launch was led by partner Patrick Larrivé who was assisted by associate Cyril Kalfat (associate). Louis Dubois (partner) and Guy-Fabrice Holo (associate) advised on the regulatory and contractual aspects related to the auto-generated renewable energy component of the project. Asafo & Co. also advised Valoris Capital in setting up its first fund, Valoris Equity Fund, aimed at financing SMEs.