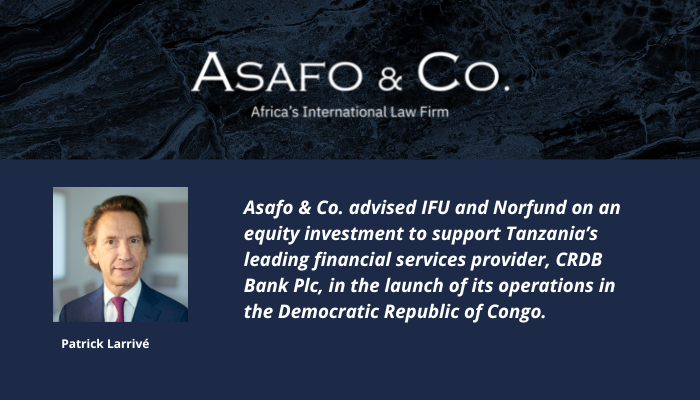 Asafo & Co. advised IFU and Norfund, respectively the Danish and Norwegian investment funds for developing countries, in their investment to support the largest bank in Tanzania, CRDB Bank Plc, in opening its first subsidiary in the Democratic Republic of Congo.
With the support of its two equity partners, IFU and Norfund, Tanzania's leading financial services provider, CRDB Bank Plc, has finalized plans to launch operations in the Democratic Republic of Congo (DRC), with a $30 million subsidiary. The DRC subsidiary, which will be based in the commercial hub of Lubumbashi, is expected to commence operations within the second half of this year. CRDB's operations in DRC will have a special focus on the strengthening of financial inclusion, increase access to financial services for SMEs and women, as well as reducing GHG emissions through financing of green projects.
The ASAFO & CO. team advising IFU and Norfund included Casablanca based partner, Patrick Larrivé, who was assisted by associates Safaa El Khammal and Christy Komba-Malongo.